Dear Oklahoma friends and neighbors:

This time of year is always busy, but just like the rest of 2020, this December is even busier than normal. In Congress, we have spent months on a path forward for COVID relief, funding all of government, protecting our national security, and trying to stabilize our economy. But we have also seen more of the fruit from the CARES legislation that was passed in March when the first doses of the COVID-19 vaccine started shipping out across the United States, including Oklahoma. I look forward to the day when we can stop saying, "there is light at the end of the tunnel" and start saying, "we are out of the tunnel."

As we approach the holiday season, even though it is a little different this year, I hope you take time to find joy in the season, gratitude for the blessings we have, and hope for a better year to come.

In my monthly podcast, we usually break down the difficult policy issues of the day, but at the end of 2020 and the middle of the holiday season, we decided to breakdown the toughest issue of all: family time in the holidays. I hope you enjoy the conversation with me, my wife Cindy, and Benjamin and Kirsten Watson. This month you can watch or listen to the Breakdown podcast conversation. It is a laid back but informative dialogue about life, faith, family, and what brings us together in a year that is pulling us apart. CLICK HERE to listen to the podcast, or CLICK HERE to watch the video podcast.
UPDATE: COVID-19 relief and funding for the federal government

While the media continued calling the last bill of the session "The COVID-19 Relief Bill," it was not just a COVID bill; it was a compilation of several other bills all added together forming a monster 5,600-page bill with hundreds of unrelated topics all thrown in because this was the last legislative train leaving the station. Throughout this entire package, there were numerous positives for Oklahomans, their families, small businesses, healthcare workers, service members, and veterans that led me to support the bill.

One of the reasons December is so busy in Washington, DC, is that the session is ending and there are multiple bills that still need to be completed. This year was certainly no exception. Every program in the federal government still needed to be funded; tax policy updates were due; COVID relief was essential; water resources like dams, levies and waterways needed to be authorized; foreign policy bills were delayed but still needed to be done; and many more. So in a frustrating flurry of final legislation, the Senate and House leadership took all the bills left and threw them together. It's a horrible process that I have fought every year, including this year. In fact, it's one of the main drivers of my Prevent Government Shutdowns bill because that bill not only ends shutdowns, it ends the panic that everything has to be done now or the sky will fall. Many individual aspects of the final bill were important and valuable, but as with many bills that move through the Senate, I strongly disagreed with some aspects as well, even arguing on the floor to the very end against a special interest tax perk that had been thrown in the night before. CLICK HERE to watch my remarks on the Senate floor on the wind production tax credit's inclusion in this bill.

Here are a few of the diverse items in the final bill:
All defense funding for the next year, assistance for Israel and the peace process in the Middle East
Border security funding for fencing and additional technology on our southern border
Rural healthcare updates to keep more emergency rooms open across the state
Additional assistance for our foodbanks
An eviction moratorium extension until January 31, 2021
Temporary extension of the Pandemic Unemployment Assistance (PUA) through April 5, 2021, with an additional $300 a week for 10 weeks
A backstop of funding to child care facilities and the United States Post Office
Nearly $20 billion for vaccine development and distribution
Priority for broadband and telecommunications access programs to minorities, Tribes, and rural communities by including $250 million for the COVID-19 telehealth program
An extension for the deadline to use the Coronavirus Relief Fund for states and tribes until December 31, 2021
Calls for the Department of Justice to appropriately address the needs arising out of the Supreme Court's decision in McGirt v. Oklahoma
This bill provides Oklahoma families and small businesses with relief now and ongoing relief for programs like the Paycheck Protection Program (PPP) and other federal loan programs through the first quarter of 2021. The bill provides tax deductibility of PPP expenses, something I heard extensively from the struggling Oklahoma small business community. It also provides simplified loan forgiveness for PPP loans of $150,000 or less, the vast majority of all PPP loans.
The federal funding for Fiscal Year 2021 portion of this bill also included important provisions including funding a 3-percent pay raise for active duty military, full funding for the Tulsa VA hospital, full funding for the McAlester Army Munitions Plant's demolition shop, and numerous other provisions for military installations and veterans in our state, including funding for increased veteran suicide-prevention programs. This bill also includes a charitable giving below-the-line tax deduction for individuals of up to $300 and $600 for married couples filing jointly, regardless of whether you itemize your federal taxes. CLICK HERE to learn more about my work to keep this deduction and my ongoing push to increase it going forward.

As you can see, this bill was not just a COVID bill. It was a broad proposal that included multiple essential programs in a jumbled up broken legislative process.
CLICK HERE for more information on the latest round of COVID-19 relief.
UPDATE: The presidential election

In Oklahoma our election system worked as intended. Our paper ballot that is run through a simple, straight-forward electronic counting system works very well. When there is a challenge, we can verify the results. We do not receive any additional ballots after the polls close at 7pm election night. We also start counting early/absentee votes weeks before the election, so when the polls close, we have our results within hours. That process is similar to 28 other states, who also conduct their elections like we do. But clearly there are problems and opportunities for fraud in multiple other states.

I have spoken out frequently on the issue of election security for years. In fact, I wrote the most-referenced election security legislation in the last Congress, which President Trump and his team implemented as a first step to secure our elections ahead of 2020 from foreign interference. But questions still remain about fraud in our most recent election and wanting to ensure that every legal vote has been counted. Those questions need to be answered. Voter integrity should not be a partisan issue.

Several weeks ago, President Trump authorized all the agencies of the Executive Branch to cooperate with Joe Biden and his team as they prepared for a presidential transition, while President Trump continues to pursue any and all questions from the election. I have strongly supported and will continue to support President Trump's right and responsibility to verify the November election results. But since the states have certified their elections and the Electoral College has met and voted, all challenges to the election outcome by the President are now much more difficult.

Some have asked me about the significance of January 6 in the electoral process. By law (since the late 1880s), both houses of Congress meet January 6 to look at the certificates of election that the states send to verify they are the actual certificates of election from each state. Our Constitution requires the states to select the president through their electors and the Congress to respect the rights and decisions of the states. We are still the "United States" of America. Congress does not select the president. The states select the president, and the people of each state select the rules and the process for selecting their electors. That's why it's so important that every election challenge is heard now and that each state sends to Congress only valid electors.

Each year there are instances of election fraud all over America. In Oklahoma, we typically have around 50 people every election who vote twice. Those individual names are turned over to local district attorneys to be prosecuted for violating election laws in Oklahoma. Accountability and justice are good things. But that is not true in every part of the nation. Some states this year had thousands of people who voted who were not residents of their states, voted twice, voted after they were dead, or voted even though they are not legally present in the US. Some states changed their election rules in the days leading up to the November election in ways that were contradictory to their own state law. That is a problem we should not ignore. We should encourage every registered voter to vote and count every legal vote, but we should not count votes that were not legally cast. I will keep pushing the issue of election security and will work to make sure we encourage every American to vote and that we only count those votes that were legally cast. I will keep encouraging the Trump team to challenge the results in court and in each state. That is the place where elections are determined.

CLICK HERE to watch my Q&A in last week's Homeland Security and Governmental Affairs Committee hearing on election fraud and irregularities in the 2020 election.

UPDATE: Vaccine delivery timeline
Last week, the first COVID-19 Pfizer vaccine was administered in our state. Now, the Moderna vaccine has also started distribution. We already have twice as much of the Moderna vaccine as we had of the Pfizer vaccine. The vaccines are quickly going to healthcare workers, nursing homes, essential workers, and those with health issues. The state has a plan to administer the vaccine in a timely and orderly fashion to ensure we get them where they are needed most as quickly as possible. By the end of this year we will have 20 million people in America that have received the first vaccine dose. And more vaccines are still in the development and approval pipeline, including the single-dose Johnson & Johnson vaccine, which could seek approval within weeks.

There is no mandate to receive a vaccine. As we move into 2021 and vaccines become available in additional age groups and vulnerability categories, you can choose to get the vaccine or not. It is remarkable that scientists and healthcare personnel were able to make this vaccine available in less than a year after COVID-19 first appeared in the US. American ingenuity and innovation led the way to create these scientific breakthroughs. As a government, we prioritized the development of the vaccines in ways we've never done before, such as allowing multiple phases to run concurrently and providing guaranteed purchase contracts for a safe and effective vaccine. Earlier this year, I recorded a podcast with the FDA Commissioner covering all of the ways we were able to speed up the development and manufacturing process for the vaccine, while also maintaining the highest levels of safety. CLICK HERE to listen.

CLICK HERE to learn more about Oklahoma's distribution plan for COVID-19 vaccines.
Fiscal Year 2021 Defense Bill

Two weeks ago, the Senate passed the Fiscal Year 2021 National Defense Authorization Act (NDAA) conference report, which Oklahoma's own Senator Jim Inhofe spearheaded as the Chairman of the Senate Armed Services Committee. I worked to secure a number of provisions to continue or enhance the missions of our Oklahoma military installations and a number of important policy provisions that benefit our nation and our national defense in the long term. Our service members and National Guard have served our nation tirelessly this year —as they do every year—in the face of COVID-19, national security issues, wildfires, ice storms and more. They have shown great strength and resilience, sometimes in full personal protective equipment (PPE). Thank you for how you serve our nation and keep us safe.

CLICK HERE for details about some of the specific provisions in this year's defense bill.

Have you ever asked the question: how much duplication do we have in government? So have I. The problem is, programs are not listed in a way that can be searched, and the full information is not available, even to Members of Congress. Until now. This year's national defense bill included an amendment with a decade long priority of mine, the Taxpayers Right-to-Know Act. My bill, requires the federal government to publicly release the details, costs, and performance metrics of all government programs. We know there is inefficiency and waste in government, but we can't fix what we can't see. This important bill turns the spotlight on agencies and will help us identify waste, duplication, and inefficiency in federal programs throughout the federal government.
CLICK HERE to learn more about the Taxpayer's Right-to-Know Act.

Keeping You in the Loop
On December 7, the Department of Labor finalized a rule to clarify the equal participation of religious organizations as federal contractors. After six years of pushing, the rule makes clear that "the religious exemption allows religious contractors not only to prefer in employment individuals who share their religion, but also to condition employment on acceptance of or adherence to religious tenets as understood by the employing contractor." CLICK HERE to learn more about this important change. It should not take so long to acknowledge in our federal contracting what the First Amendment acknowledged 200 years ago.
The House and Senate passed the Johnny Isakson and David P. Roe, MD, Veterans Health Care and Benefits Improvements Act, which included an important update to the Fry Scholarship program. Last year, I was proud to lead my colleagues to introduce a bill to ensure eligibility for the Fry Scholarship for surviving children and spouses of National Guard and Reservists who die as a result of their service or in between active status. This provision ensures we continue to update our policies to reflect the situations facing 21st-century warfighters and their families. CLICK HERE to learn more about this important bill for our veterans and their families.
Eastern Oklahoma is home to more than 115,000 veterans and their families. The VA funding bill that passed this week provides final approval and funding for a new VA hospital in Tulsa and the first step to transition the VA facility in Muskogee to provide greater access to mental health services for our veterans. This strategic transition over the next several years will help ensure we continue to meet the evolving needs of our nation's heroes in Oklahoma.
In September, the US Department of Homeland Security (DHS) announced that Oklahoma's state-issued IDs are now compliant with the REAL ID Act and its federal requirements. DHS Acting Secretary Chad Wolf extended the overall REAL ID enforcement deadline to October 1, 2021, which is the date Oklahomans have to obtain a REAL ID or acceptable alternative form of identification to fly domestically or to access federal buildings. On October 1, the Oklahoma Department of Public Safety (OKDPS) began issuing REAL ID-compliant licenses and ID cards. CLICK HERE to visit the OKDPS REAL ID webpage.
Last week, Secretary of State Mike Pompeo announced the US will impose sanctions against Turkey for the procurement of the Russian S-400 missile system. This is an issue I have worked on with the Trump Administration for two years, since Turkey demonstrated they were attempting to have our F-35 Joint Strike Fighter and the Russian S-400 Missile system. CLICK HERE to read more on this major announcement in US foreign and defense policy. CLICK HERE to read my op-ed with South Carolina Senator Lindsey Graham on this issue.
Last week, the House and Senate passed a resolution to name the US Postal Service facility at 305 NW 5th Street in Oklahoma City the "Clara Luper Post Office Building." Naming a post office in Oklahoma City, in the heart of Ms. Luper's professional, social, and political work, will help remind future generations of her accomplishments and the need to continue her legacy toward racial reconciliation. CLICK HERE to read more on its passage in the Senate.
My staff and I have taken Java with James virtual during the ongoing pandemic. Please join me each Wednesday the Senate is in session for a virtual update on my work in the Senate and to be able to ask a question. You can visit my Facebook page at www.facebook.com/senatorlankford to watch live.
The Homeland Security and Governmental Affairs Committee held a hearing earlier this month on the FBI's botched Crossfire Hurricane investigation of the 2016 Trump campaign and attempted Russian interference in the election. I questioned investigative journalists Lee Smith and Sharyl Attkisson and Former Assistant Director for Intelligence at the Federal Bureau of Investigation (FBI), Kevin Brock. To watch my Q&A, please CLICK HERE.
Right before Thanksgiving, the Office of the Comptroller of the Currency at the Department of Treasury announced a new proposed clarification that financial institutions may not discriminate against certain industries in their lending practices. Financial institutions should consider credit-worthiness when deciding whether or not to issue a loan, not whether they agree with or use a legal business product or service. The attempt to pressure national lenders to "cancel" certain industries, including gun manufacturers and energy companies, is inappropriate and discriminatory. CLICK HERE to read more about this clarity from the Department of Treasury.
Over the weekend, the Senate passed my bipartisan bill to address a long time discrepancy in Tribal health care and it is headed to the President's desk to become law. I partnered with Oklahoma Representative Markwayne Mullin to clear up disparities in the law that unfairly limits Urban Indian Health Organizations because they could not access liability protection available to other health entities. That omission takes healthcare dollars away from Tribal patients and members. CLICK HERE to learn more about this issue.
The Senate unanimously passed my bipartisan bill to address blasphemy laws around the world this week. According to a recent report by the United States Commission on International Religious Freedom (USCIRF), 84 countries still have criminal blasphemy laws, many of which punish individuals who engage in expression deemed by the government to be blasphemous, heretical, apostate, defamatory of religion, or insulting religion. Americans believe in the human right to have and live their faith. CLICK HERE to read more about my bill and our work to end blasphemy laws around the world.
This week, I worked with the White House and President Trump to finalize the major disaster declaration for the Oklahoma ice storm that took place from October 26 - 29 in order to access aid for state, tribal, and eligible local governments and certain private nonprofits in Caddo, Canadian, Cleveland, Dewey, Grady, Kingfisher, Kiowa, Logan, Noble, Oklahoma, Payne, Pottawatomie, and Roger Mills counties. Visit FEMA.gov for more information on how to access federal disaster relief funds if you were affected.
Some of our ports, especially those in the Tulsa area, lease land through the Army Corps of Engineers, and renewals for those leases can take a very long time. To address that problem, we secured a provision in the year-end bill to expedite the processing of those leases to within 10 days of receipt, which will ultimately bring more certainty to our waterway protection systems. I am grateful for the engagement of the Tulsa-area port authorities and local entities affected by the lease process for their work to help find a solution. It is amazing how many things take "an act of Congress" to get resolved.
In God We Trust,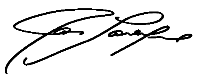 James Lankford
United States Senator for Oklahoma